Exhibiting at PixelPop Festival 2019:
We should talk.
The "We should talk" team - Brooklyn, NY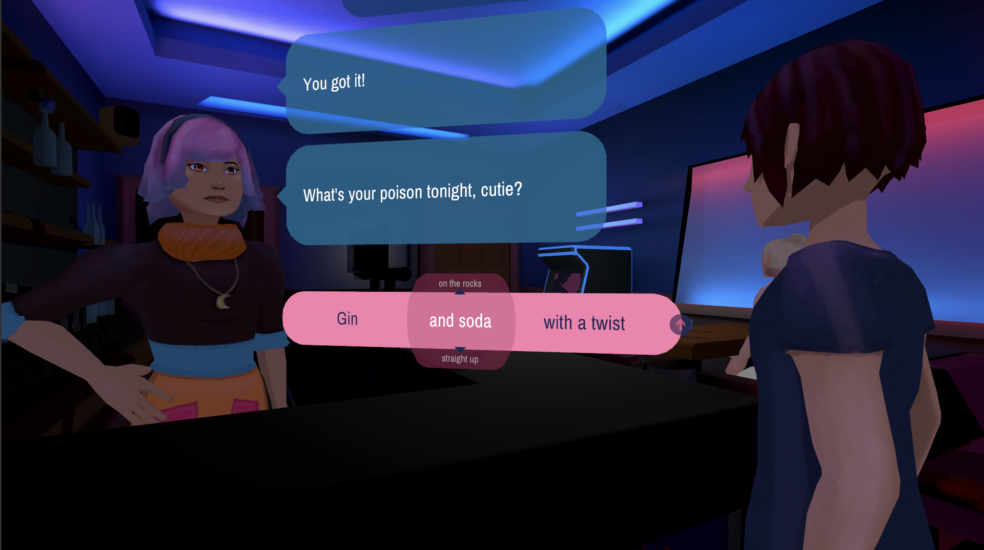 It's not what you say, it's how you say it. We should talk is a short-form narrative game that will make you think twice about the words you choose.
Using its unique combinatorial choice mechanic, players craft sentences in response to the in-game characters in "We should talk." Through this careful choice of words, players discuss ongoing problems about life and romance with their in-game partner over text messages, while also chatting with friends and strangers at their favorite local bar about what's on their mind. The combination of words they choose affects how genuinely they can connect with their partner, and whether their relationship can survive the night.
---
The We should talk Team is Kat Aguiar, Nobonita Bhowmik, Francesca Carletto-Leon, Jordan Jones-Brewster, Carol Mertz, Jack Schlesinger
All graduates from the 2019 NYU Game Center MFA cohort, the We should talk team came together to explore how they might design relationships in games in a non-transactional, nuanced way. Originally created for a class project, We should talk was accepted into the 2019 NYU Game Center Incubator, where the team has been able to continue to work on it to prepare for a full release.
« view all exhibitors