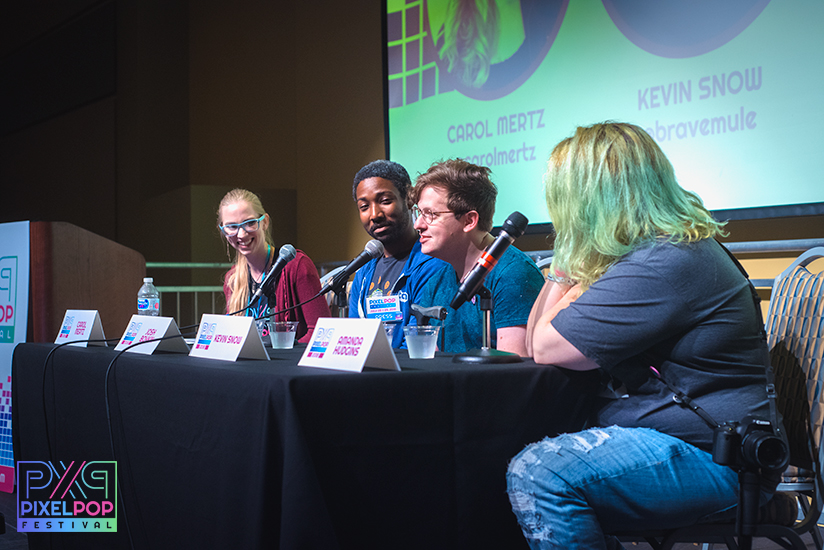 Press Registration is Now Closed
PixelPop Festival welcomes traditional and nontraditional media. We are happy to provide approved media members with a complimentary Press credentials so you can attend and cover PixelPop for your outlet, publication, or channel.
Press Registration is available for journalists and content creators regularly making editorial contributions. This includes writers, reporters, reviewers, photographers, videographers, producers, and on-camera/on-mic talent. You must be in attendance to specifically to write about and/or cover PixelPop Festival for newspapers, magazines, TV, blogs, podcasts, radio, video broadcasts, etc.
Press registration closed September 6, 2019. There will be no on-site press registration.
Please read the information below carefully before submitting your registration.
Press Credential Details
Press Credentials will be issued only to adults. Press Credentials will not be issued to children, family, or guests of Press.
Each Press Credential is issued individually and is non-transferable and non-resellable. If you intend to come to PixelPop with a team (photographer, videographer, etc.), each member of your team must submit an application.
Submitting for a Press Credential does not guarantee you or your outlet will be approved. PixelPop reserves the right to approve or deny any application and limit the number of Press Credentials provided to any organization. Decisions are final and cannot be appealed. Any individuals caught transferring or selling their Press Credential will be disqualified from Press Credentials at future PixelPop events.
You will be notified of Press Credential approval by September 9. If your registration is not approved, you will also be notified. If you have been approved, additional information regarding Credential distribution will be provided in your confirmation email.
Please note – your Press Credential:
Allows access as long as venue and event spaces permit.
Does not allow for early access to the exhibition floor or guaranteed seating during programming. Please arrive early at panels you wish to cover. Do not schedule interviews with exhibitors prior to start of show hours.
Does not allow you to cut lines.
Does not give you access to any events which require an additional registration, such as after-parties.
All members of the Press are expected to adhere to our Code of Conduct and Event Policies.