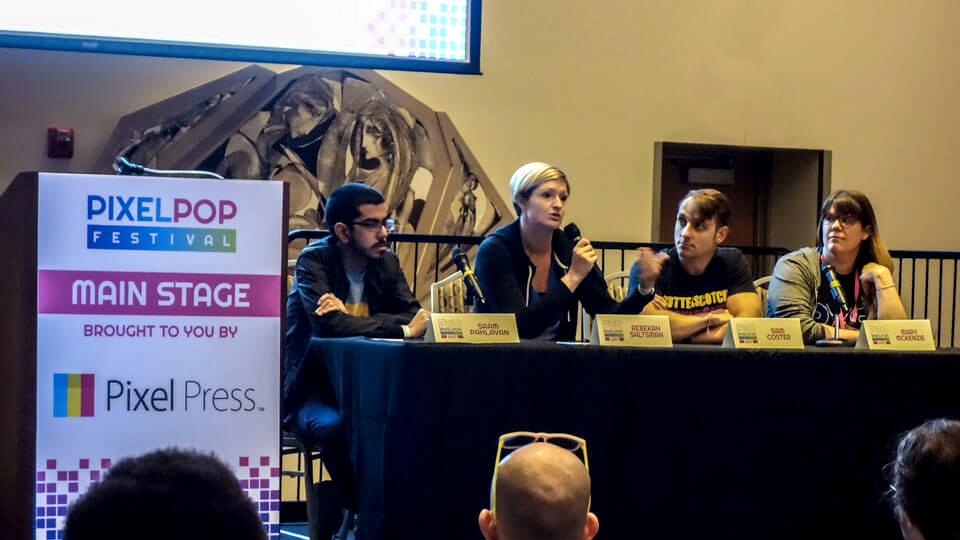 Programming Submissions are Now Closed.
The deadline for programming submissions was May 25, 2018. Applicants will be notified of submission status during the week of June 11th.
Join our newsletter to stay up to date on all PixelPop Festival announcements. If you have questions, please contact us.
Programming/Panel Submission Details
We are seeking a wide range of speakers who hope to share their unique experiences in games. Desired topics include (but are not limited to) game postmortems, digital game development, tabletop/board/analog game creation, the business of games, experimental game design, industry advocacy, workshops, game art, game writing, game audio, e-sports, emerging technologies, and gaming content creation.
Panels and programming come in several different forms. Your submission should fit into one of the following categories:
Speaker Panels – A group of 2-5 speakers, plus a moderator*, discuss a specific topic, career, industry, etc. Panels are conversations between professionals to explore multiple viewpoints and ranges of experience. Generally ending with an audience Q&A.
Speaker Presentation – One or two speakers deliver a carefully prepared lecture or short seminar on a specific topic, accompanied by a visual or multimedia presentation. May conclude with an audience Q&A.
Interactive Session – These sessions are led by 1-2 presenters and are designed to engage the audience in group or individualized activities. This may include group discussion, interaction with props or handouts, breakouts into smaller teams for activities, etc. Should be accompanied by a visual or multimedia presentation. Handouts and audience takeaways are encouraged.
*Please note: for Speaker Panels, the submitter will be considered the moderator for the panel unless otherwise specified in the submission form.
All programming submissions should be provided with an expected, but tentative, list of speakers which you would like to be included. This speaker lineup is subject to approval by PixelPop.
Approved speakers, presenters, and panelists are eligible for a complimentary Speaker Badge. These Badges will be issued only to adults. Speaker Badges will not be issued to children, family, or guests of Speakers. Speaker Badges are issued individually and are non-transferable and non-resellable.
Please be aware that Speaker Badges do not include, or waive the fees of, demo/exhibition space at PixelPop. Registered exhibitors already demoing at the Festival will not be issued any additional badges for speaking at the show.
Submissions will be considered and selected or denied by the PixelPop Programming team. Decisions are final and cannot be appealed.
If your submission is selected for PixelPop 2018, you will be notified by the week of June 11th. If your submission is not approved, you will also be notified.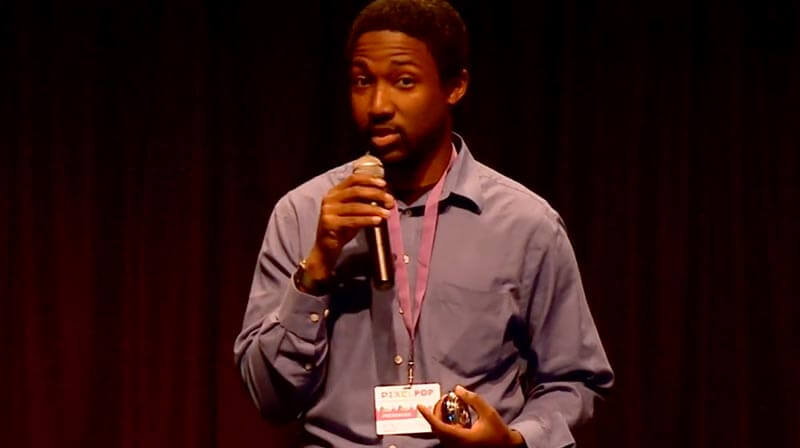 Keep in mind the following when creating and submitting your programming ideas. Close attention to these guidelines will greatly increase your chance of selection, and providing excellent programming at the show.
Mission Alignment – PixelPop Festival celebrates unique games and the people who make them possible. We are an all-ages event, catering to an open and diverse audience, designed to educate and encourage game creators and players. Please design your submissions to align with those core tenants.
Timeliness – We encourage submissions that are relevant to recent events and notable topics in the games industry. Approach these issues in thoughtful, interesting ways.
Relevance – Design your submissions specifically for the PixelPop audience. What will our attendees want to see? Refer to the Mission Alignment above.
Completeness – Submissions that are well considered and complete, and do not require additional development by our staff, will be prioritized.
Your Time/Availability – Be sure that you have the time, interest, and ability to follow through with your submission. This includes communicating with your panelists, creating discussion outlines, designing presentations and takeaways, etc. Put your best effort into providing great programming for your audience at PixelPop.
Be Prepared – Show up to PixelPop ready to present and educate. Rehearse your presentations. Refine your PowerPoints/Keynotes. Don't wait until the night before, or morning of, to prepare your session. Know your material. Share discussion outlines with your panelists a few days before the show so they may also prepare.
All Speakers are expected to adhere to our Code of Conduct and Event Policies.
We're very excited to hear what you'd like to contribute to PixelPop Festival. Thank you for reading this information and for your submission!