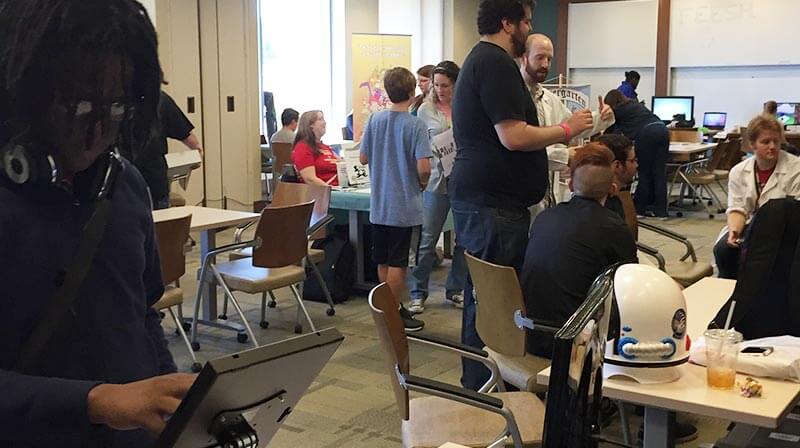 Tickets On Sale At The Door!
Deadline for online pre-registration has passed. Purchase your weekend or one-day passes on-site at the PixelPop registration table.
Weekend (2-Day) pass: $25.
Saturday or Sunday (1-Day) pass: $15.
Children 10 & under get in free when accompanied by an adult paid attendee.
When & Where
PixelPop Festival 2017 will be held at Saint Louis University's Busch Student Center on Saturday, August 5th and Sunday, August 6th.
Hours for the show are 10:00am – 5:00pm. Registration begins at 9:30am.
The Busch Student Center (BSC) is a central hub of the SLU campus. It is located at 20 N Grand Blvd, St. Louis, MO 63103 [map]. The BSC is an ADA-compliant, handicapped-accessible facility. Parking is available in the nearby Laclede Parking Garage [map].
Parking in the Laclede Garage is free for all exhibitors and attendees courtesy of Saint Louis University's Center for Entrepreneurship! Just tell the parking attendant you are there for "PixelPop".
For additional travel, lodging, and tourism information, click here.
Who Attends?
PixelPop is for creators and players of unique game experiences. From tabletop to video games, from experimental to traditional-with-a-twist, our attendees and guests encompass a broad range of play styles and creative inspirations.
The festival is designed for both game enthusiasts – who want to play new, exciting games and meet the people who make them, and game creators – professional and aspiring, seeking education, inspiration, and networking opportunities.
Festival Code of Conduct
We aim to create a safe, welcoming environment for everyone involved with PixelPop Festival, so all of our events adhere to a strict code of conduct. Please familiarize yourself with our expectations before attending so that we can ensure that everyone has the best experience possible. View the Code of Conduct.