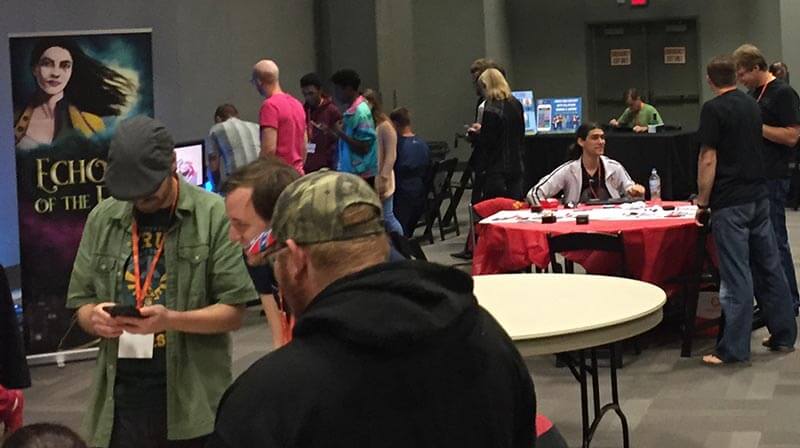 We expect all participants to follow our Code of Conduct at all PixelPop Festival venues and Festival-related social events.
Gaming Rooms and Demos
Please respect your fellow players and staff and their equipment. Attempting to alter or break equipment will be grounds for having your badge revoked.
Alcohol Policy
No alcohol is allowed at PixelPop Festival.
Smoking
No smoking, e-cigs, or scented vapor devices are allowed inside the venue. Please smoke outside, and be considerate of others when you do.
Badge Policy
You will need an attendee badge to take part in everything the event has to offer. Badges must be visible at all times, worn on the front of the body and above the knees. Please do not hang them off purse straps or other accessories. If you lose your badge, you can purchase a new one for $15 at the registration desk, as long as a record of your initial purchase is in our records. Only one replacement may be bought during the event. Please do not share badges. Anyone caught sharing a badge will have it revoked.
Lost and Found
PixelPop Festival is not responsible for lost, stolen, or damaged property during the course of the convention. A lost and found box will be kept at the Registration Desk during the event for anyone who turns in items or wishes to claim them. Possessions left unclaimed at the end of the convention will be turned over to Saint Louis University for any inquiries afterwards.
Sign Props Policy
Signs with inappropriate language or solicitations are not allowed. Signs that promote a business or selling of products and/or behavior without the knowledge and consent of PixelPop Festival are also forbidden.
Advertising Fliers Policy
Please do not post signs on the walls of the venue. Fliers may only be handed out if you have a booth at the event, or an agreement with the show producer. Soliciting and unapproved distribution of fliers can cause you to lose your badge and be requested to leave. If you have fliers you would like placed for distribution, please bring them to the Registration Desk for approval. Unapproved fliers left around the event can be thrown away by event management without warning.
Common Courtesy
Please turn your mobile devices to silent or vibrate when you're in programming and event rooms. If you must take or make a call, please step outside into a hall.
Photography & Video
By attending PixelPop Festival, attendees understand that they may be photographed or filmed. As a courtesy, attendees should ask permission before filming or photographing others. Please respect people who do not want to be on camera.
Events where photography and filming are not allowed will be announced during the event.
Costume Policy
Cosplay is allowed at PixelPop Festival. All attendees must observe county, city, state, and federal laws at all times. PixelPop Festival is an all ages event, so we ask that costumes reflect that idea. Costumes and clothing must cover what an average bathing suit would cover. While we respect our attendees' freedom of expression, we do not consider underwear or similar lack of clothing appropriate. Nudity and clothing with inappropriate language is not allowed. We also ask that any costume that poses a risk to others (protruding wires, spikes, loose swinging chains, etc.) be examined by security for risk assessment. If the costume is deemed a risk, we ask that you respect the decision and either change clothes or alter the costume.
Costumes, Weapons, and Props
For the safety of all participants, prop weapons of any kind are NOT allowed in the venue. This includes: live steel or any real weapons of any kind; props made of wood, plastic, foam, plaster, cardboard, cloth, etc; fake/toy guns.
Any other props that must be carried and otherwise protrude from your person should be left at home. We encourage you to come unencumbered so you can easily partake in our game demos.
Explosives and chemicals are strictly prohibited (this includes fireworks, sparklers, etc.). We ask that attendees do not engage in mock fighting in the venue. Please do not use a prop weapon to threaten, endanger, or harm another person. If your weapon violates State or Federal laws outside the venue, it violates them here too. Please ask a staff member if you are ever unsure about your prop.
Miscellaneous items
Announced events and programs are subject to change and/or cancellation. A notice of schedule changes will be posted at the registration booth.
Except for service animals, pets are not allowed in the venue.