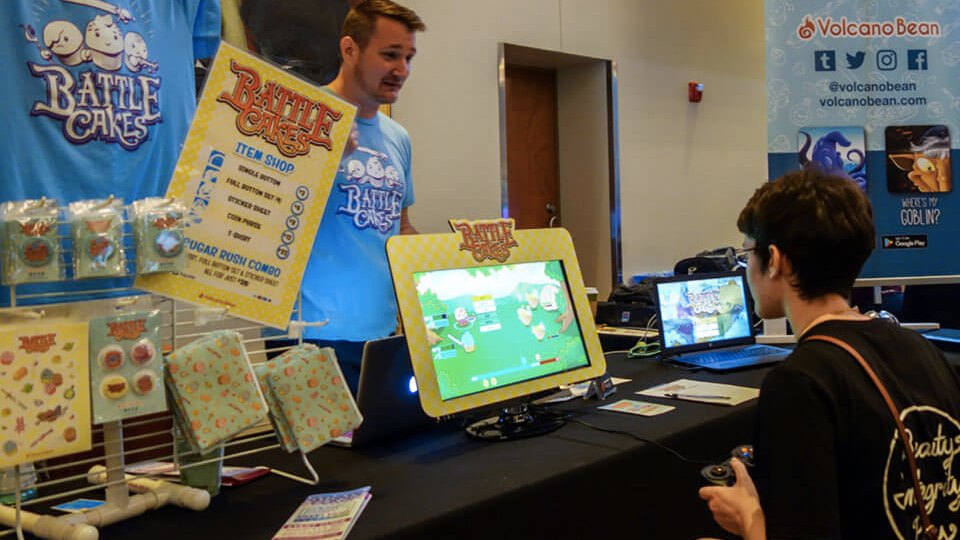 Demo/Exhibitor Submissions are Now Closed.
The deadline for demo submissions was May 25, 2018. Applicants will be notified of submission status during the week of June 11th.
Join our newsletter to stay up to date on all PixelPop Festival announcements. If you have questions, please contact us.
Submissions Details – Please Read Carefully
PixelPop Festival is open to games across media and mode, including tabletop, desktop, mobile, console, experimental, VR, and alternative controller. We are interested in unique, independently produced games that explore many genres and subject matters, blend art and humanities with entertainment and commercial appeal, and which are created for diverse audiences. We seek to showcase exciting new voices, talents, and products – both from St. Louis-area creators, and well beyond.
Please be aware that PixelPop's demo/exhibitor selection is juried by the Festival staff. Submission does not guarantee selection and approval for the show. Demoers will be approved based on table/space availability, relevance to the PixelPop mission, and quality of submission. Submitting a well-written and complete registration – including links to artwork, demos, and company/game website and social accounts – will greatly benefit your chances of being chosen for exhibition.
If your submission is selected for PixelPop 2018, you will be notified by the week of June 11th. Invoice for payment to complete your registration will be provided upon approval, along with other relevant exhibitor information.
If your submission is not accepted, you will also be notified. Decisions by the PixelPop team are final and cannot be appealed.
Available Exhibitor Spaces
The following Exhibitor spaces are available for your demo:
8ft Rectangular Table – $50 – Space for screen and devices, retail display, promotional banners. Also appropriate for tabletop games with limited pieces and players, such as card games. Includes power and 2 chairs. Additional chair optional for attendees to sit during game play.
6ft Round Table – $50 – Traditional tabletop setup for board and card games, RPGs, and other physical media games. Table space may also be used for retail display and promotional banners. Includes 4-5 chairs. Power available on request.
10ftx10ft Exhibitor Space – $100 – Larger, customizable area for premium presentations, and/or demos which require more play room, such as VR setups. Power included, up to 2 tables available. Exhibitors may bring and assemble their own custom displays, subject to approval from the PixelPop staff.
All Exhibitor packages come with 2 Exhibitor Badges. Additional Exhibitor Badges may be purchased individually.
Special Considerations
Exhibitor displays should have no items, decorations, or other physical objects that extend above 10ft in height. Displays should not extend beyond your table and should not inhibit sight-lines to your neighboring exhibitors tables. Promotional banners and other displays must not include any offensive language or suggestive/sexual imagery, or any depictions of an exceedingly graphic violent nature. Exhibitors must not wear clothing displaying offensive language, and costumes must not be overly revealing or sexual in nature. If you have questions or concerns about these standards, please feel free to contact us.
The following considerations may cause your game to be rejected during the jury process:
Your game is not likely to be ready as a playable demo by the PixelPop event dates.
Your game has unpolished presentation or playability, or is an obvious clone of another popular game.
Game contains gratuitous graphic violence and/or suggestive/sexual themes and imagery. (Games for mature audiences are welcome at PixelPop. However, this is an all ages event, so demoers are asked to respect the varied nature of the attendees.)
Themes or story of the game contain explicit attacks on a particular group of people (race, creed, gender, sexual orientation, etc).
Incomplete or poorly written exhibitor submissions, and/or lack of supporting materials such as game art, screenshots, website, etc.
PixelPop Festival Selections
All games selected to demo will be considered for additional accolades by our curated jury, which will highlight the best at the show. Games will be selected based on several criteria, including game design, aesthetic polish, event presentation, attendee feedback, and originality. Selected games will be notified after the festival, will be announced on PixelPop Festival social media, and will be provided with exclusive "PixelPop Selects" imagery.
All Exhibitors are expected to adhere to our Code of Conduct and Event Policies.
We're very excited to have you demo at PixelPop Festival. Thank you for reading this information and for your submission!