Exhibiting at PixelPop Festival 2020:
Honey & Hot Wax: An Anthology of Erotic Art Games
Sharang Biswas & Lucian Kahn - New York, NY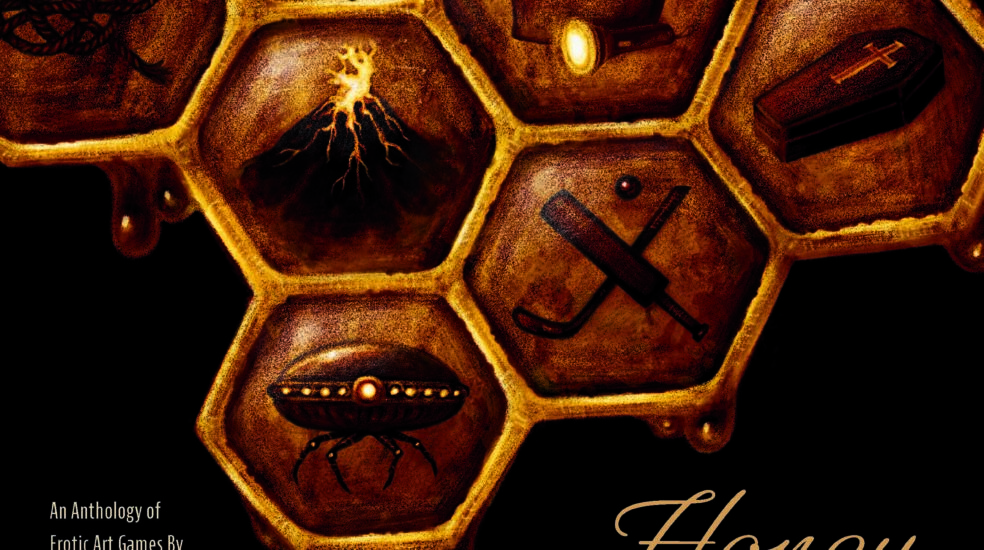 Honey & Hot Wax is an anthology of games about sex by a diverse group of nine designers, edited by Lucian Kahn and Sharang Biswas. From games that merely talk about sex, to larps that feature sex acts, these games challenge how we think about roleplaying, sexuality, and human relationships. The anthology includes a foreword by game designer Naomi Clark of "Consentacle" and a chapter on safety and consent by Maury Brown. It includes games suitable for remote play via video chat and games ideal for those living together during social distancing. Made possible by The Effing Foundation for Sex-Positivity.
---
Sharang Biswas has won IndieCade, & IGDN awards, and has showcased games at institutions such as The Institute of Contemporary Art in Philadelphia, Pioneer Works in Brooklyn, and the Museum of the Moving Image. His writing has appeared in Eurogamer, Unwinnable, and First Person Scholar, among other publications. In partnership with Strange Horizons magazine, he is co-editing the upcoming "Strange Lusts / Strange Lands: An Anthology of Erotic Interactive Fiction". Twitter: @SharangBiswas
Lucian Kahn is the designer of Visigoths vs Mall Goths, a roleplaying game about the conflicts and romances among the warriors who sacked ancient Rome and 20th-century spooky teens. His game "If I Were a Lich, Man", won the 2020 IGDN Indie Groundbreaker Award for "Most Innovative", while his storytelling game "Dead Friend" was nominated for the same category in 2019. Twitter: oh_theogony
Website:
http://storytelling.pelgranepress.com/190-2/
Page on DriveThruRPG:
https://www.drivethrurpg.com/product/321495/Honey–Hot-Wax-An-Anthology-of-Erotic-Art-Games
« view all exhibitors